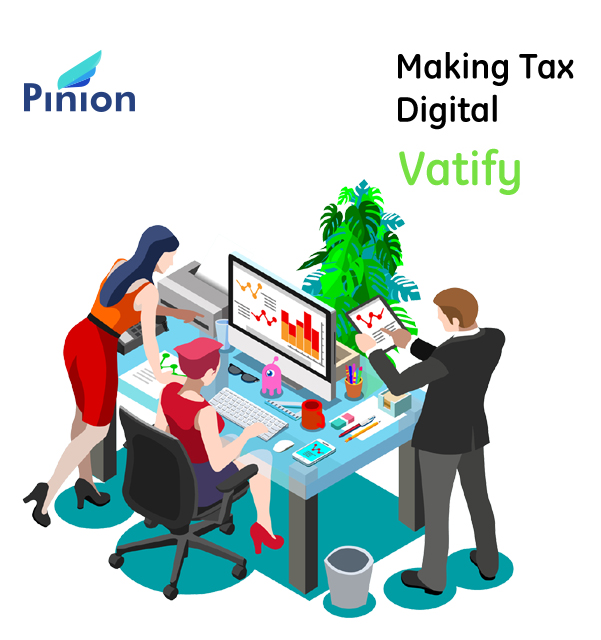 Welcome to Vatify
Need to comply with HMRC's Making Tax Digital for VAT?
Pinion has developed an application that bridges the gap between your UK VAT return and HMRC. Our simple Vatify MTD compliant and HMRC listed application will allow you to submit your return directly to HMRC.
Pinion's MTD application is listed by HMRC on their recognised software providers list. Reviewed by Microsoft Azure, the application never exposes any of your sensitive VAT return data to anyone other than HMRC. Safe, simple and suitable solution for all business sizes.
In helping our customers to comply with Making Tax Digital, our goal is to make things simple. So we've built a simple API that allows you submit your UK VAT return direct to HMRC using a simple web page.
As a free service, we'll provide you with access to your very own solution. All you need to do is enter the data in the webpage then submit return, and thats it, you're done. It really is that simple.

The Vatify application is the easy way to HMRC Making Tax Digital. Simply create an account, choose your licence, and start using. Once you've entered your figures, send it to HRMC.
Step 1 - Register / Login
To use the Vatify service register or login. Then link your HMRC login with Vatify.
Step 2 - Enter figures & Submit Online
Vatify is a bridging product and users must only upload a spreadsheet. When all your details are correct you can to submit your return to HRMC. HRMC will then issue a submission ID confirming reciept of your return.
For more information please see VAT Notice 700/22